As a makeup artist, do you often wonder how much to charge brides for your services? It's alright to have questions. When I started my career as a freelance makeup artist, I struggled to figure out how to set my prices. On the one hand, I wanted to charge fair to the bride, whereas, on the other, I needed to make a good profit to continue doing what I love.
If you are on the same page now, wanting to be fair to the bride while making an investment return, this blog is for you.
Here you'll understand the different factors that go into setting a price for bridal makeup and learn about the current makeup service rates. So, quickly let's dive in.
Average Wedding Hair and Makeup Cost 2022
The average wedding makeup and hair cost in the U.S is around $300. However, the price typically ranges between $150 to $600 depending on the service location and the makeup style the client want.
Good news! If you fulfill any of these criteria(s) as a makeup artist, then you may earn $1,000 or more.
(1) You have experience working in this field
(2) You got proper MUA training
(3) Valid proof of your skills or a strong portfolio
(4) Connections in the industry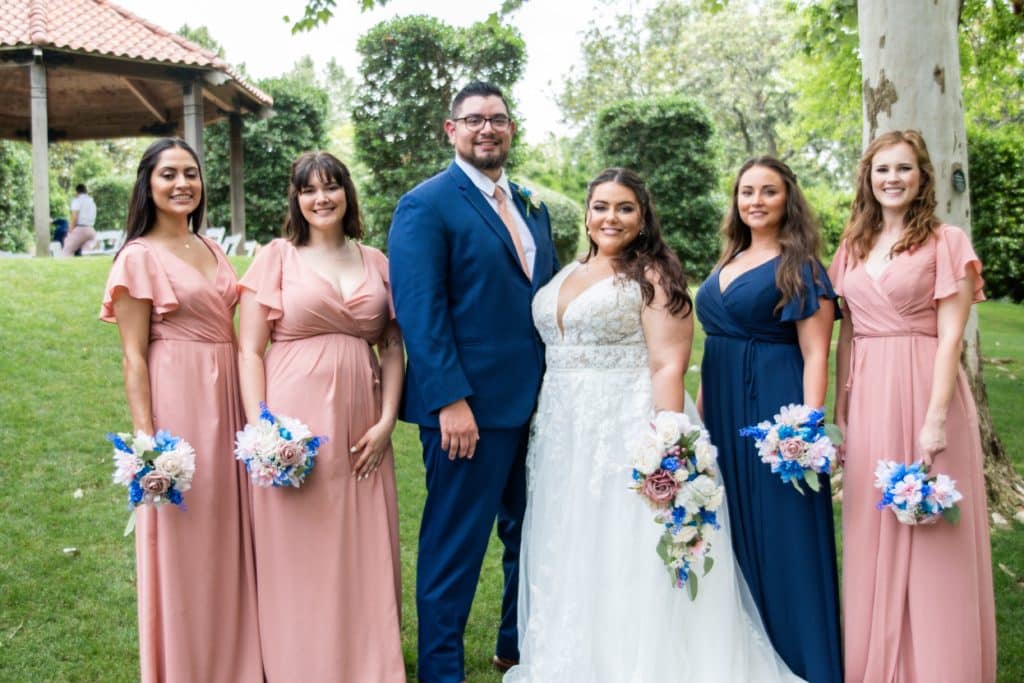 What's Included In The Price Of Wedding Hair and Makeup This Year
You don't have to offer everything you've got for $600. However, ensure you decide on a list of hair and services for each pay level you provide. Thus, if a client is paying you $1,000, the quality and list of services may be more than the MUA service for $600.
So, here's your guide to deciding what to include in your MUA price:
$150 to $600 MUA service
Traditional makeup, including blowout hairstyles or updos, costs between $45 to $95. Last-minute touch-ups and a few additional services. Also, you may charge for a trial run. The average cost of trails is $75.
$1,000 or more MUA service
$1,000 or more is expected for professional airbrush makeup. This higher price range primarily includes a Free trail run beside additional hours of on-site makeup. Fortunately, the on-site makeup ranges between $30-$125 per hour.
Also, some MUA artist covers only the bride with top-class makeup and hair services, while the others include bridal party makeup for Bride's mom, mother-in-law, and bridesmaid.
Should You Offer Wedding Hair and Makeup Trial?
It depends on two factors-(1) your pay by the client and (2) your will.
If your paycheck is satisfactory, you may offer a free makeup trial; otherwise, it's totally your will to charge $75 or less Or do it for free.
How To Set YOUR Price For Bridal Makeup?
Now that you know everything about what goes into setting a price for bridal makeup, it's time to start thinking about how to set YOUR price. Here are a few things to keep in mind:
1. Decide what services you want and at what price point.
2. Determine your target market and what they are willing to pay.
3. Price your services based on your experience, training, and portfolio.
4. Ask around and see what other professional makeup artists in your area are charging.
5. Be flexible with your pricing and be willing to negotiate. Increase your price as you improve in your profession.
6. Offer discounts or promotions to attract new clients.
7. Increase your prices for destination-wedding makeup services.
8. Get creative with your pricing and offer package deals or group discounts.
9. Be transparent with your pricing and make sure the client knows what they are paying for. Follow them with a breakdown of the services you'll be providing them.
10. Most importantly, be confident and know you're worth it!
Bottom Line
Even as a beginner freelance makeup artist in Frisco or anywhere, you can become a confident artist and charge the right price. All you need is a guide like this blog, and we think you are good to go. Also, don't hesitate if you need any assistance down the lane. Feel free to contact us anytime!